The Hanbali Position Of Placing The Hands Below The Navel in Salah
The following work by Dr. Hussain Ahmed is an investigation and verification of where the hands should be placed in Salah according to the dominant and dependable view of the Hanbali Madhhab, as well as the acceptable positions emanating from Imam Ahmed Ibn Hanbal (d. 241 AH). It is in essence a comprehensive academic rejoinder in excess of 150 pages to a 10-page piece entitled: 'Looking at the Hanbalee Text al-Khiraqee and Placing the Hands On The Chest', by two opponents of the Taqlid of any of the four Sunni Madhhabs, namely, Abu Hibbaan Kamran Malik and Abu Khuzaimah Imran Masoom, both from Birmingham, England.
The named duo attempted to endorse their personal view that the hands are to be placed upon the chest only in Salah, and they claimed that the chest refers to the part of the body that is literally above the navel and below the neck. They also attempted to pass off their assertion that Imam Ahmed Ibn Hanbal would also place his hands upon the chest in Salah. This latter view was also propounded by their late authority in Hadith known as Shaykh Badiud-Din Shah al-Rashidi al-Sindi (d. 1416 AH/1996 CE) of Pakistan.
The duo being retorted to also endeavoured to demean the dynamics of the Sunni-Hanafi Madhhab, as well as attempting to intersperse their own selective hermeneutics of some of the Hanbali texts that they brought forth as part of their discourse. The response also contains a host of additional information on the authenticity of some of the narrations that they either weakened or attempted to promote. One of the main findings in the riposte was the establishment of the fact that Imam Ahmed Ibn Hanbal actually disliked (makruh) that the hands should be placed on the actual chest region.
This work has also presented probably for the first time in the English language some narrations and quotations translated from original Arabic sources that is also probably unknown to many Arabic speaking scholars who have either written or read up on this matter at hand in this era.
Table of Contents
A LOOK AT SOME OF THE EVIDENCES THEY MENTIONED FROM HADITH BOOKS. 22
A LOOK AT THE AUTHENTICITY OF THE NARRATION FROM WA'IL IBN HUJR (ra) FOR PLACING THE HANDS ON THE CHEST AS IN SAHIH IBN KHUZAYMA. 28
SALAFI TYPE WRITERS WHO WEAKENED THE HADITH OF WA'IL (RA) FOR PLACING THE HANDS ON THE CHEST AS IN SAHIH IBN KHUZAYMA. 33
Mu'ammal ibn Isma'il weakened by some Salafis: 41
Imam Sufyan al-Thawri's madhhab was to place the hands under the navel in Salah according to some well-known Salafis: 45
A CHALLENGE FOR THE LOYAL READERS OF AL-ALBANI'S SIFATUS SALAH.. 51
A SUCCINCT LOOK AT THE NARRATOR ABDAR RAHMAN IBN ISHAQ AL-KUFI 56
SCHOLARS WHO AUTHENTICATED THE ATHAR (REPORT) OF ALI (ra) OR ABU HURAYRA (ra) FOR PLACING THE HANDS BENEATH THE NAVEL IN SALAH.. 70
IBN TAYMIYYA (d. 728 AH) ON WHERE THE HANDS SHOULD BE PLACED IN SALAH.. 83
A LOOK AT THEIR EARLIER SUPER CLAIMS ON IMAM AHMED IBN HANBAL AND WHERE THE HANDS SHOULD BE PLACED IN SALAH.. 99
IMAM AHMED IBN HANBAL AND WHERE THE HANDS SHOULD ACTUALLY BE PLACED IN SALAH.. 108
The report of Abu Dawud al-Sijjistani (d. 275 AH) 108
The report of Abdullah Ibn Ahmed Ibn Hanbal 110
WHAT THE STUDENTS OF IBN HANBAL REPORTED FROM HIM ABOUT THE POSITION OF THE HANDS IN SALAH.. 129
The report from al-Fadl ibn Ziyad. 129
The report from Ishaq ibn Mansur al-Kawsaj 130
The report from Abu Dawud al-Sijjistani 131
The report from Abu Talib. 131
WHAT THE STRONGEST VIEW IS IN THE HANBALI SCHOOL ON THIS MATTER.. 135
PROOFS FROM HANBALI, SHAFI'I AND MALIKI WORKS THAT ABOVE THE NAVEL MEANS UNDER THE ACTUAL CHEST: A REPLY TO BADIUD-DIN AL-SINDI AND HIS ADVOCATES. 148
Some quotes in demonstration of the demarcation of the chest from that which is known as below the chest but above the navel from the Hanbali, Maliki and Shafi'i Madhhabs. 149
A COMMENTARY ON MUKHTASAR AL-KHIRAQI NOT MENTIONED BY THE TWO BLOGGERS AND WHAT IT STATED.. 156
THE STANCE OF THE MAJOR TABI'I IMAM: SA'EED IBN JUBAYR ON PLACING THE HANDS ON THE CHEST AREA AS REPORTED BY IMAM AHMED IBN HANBAL AND IMAM ABDAR RAZZAQ AL-SAN'ANI 160
APPENDICES:
IJMA (CONSENSUS) ON FOLLOWING ONE OF THE RECOGNISED SUNNI MADHHABS. 166
The "Mukhtasar" of al-Khiraqi: A tenth century work on Islamic jurisprudence by Dr. Anas Khalid, (New York University, 1992): 169
AL-ALBANI: "THE SALAFI DA'WAH IS NOW IN DISARRAY". 179
AL-ALBANI ON 'THE SAPLINGS' IN HIS SECT. 187
2001: CHICKENS COME HOME TO ROOST IN 2014 FOR KAMRAN MALIK (ALUM ROCK) 191
Cover: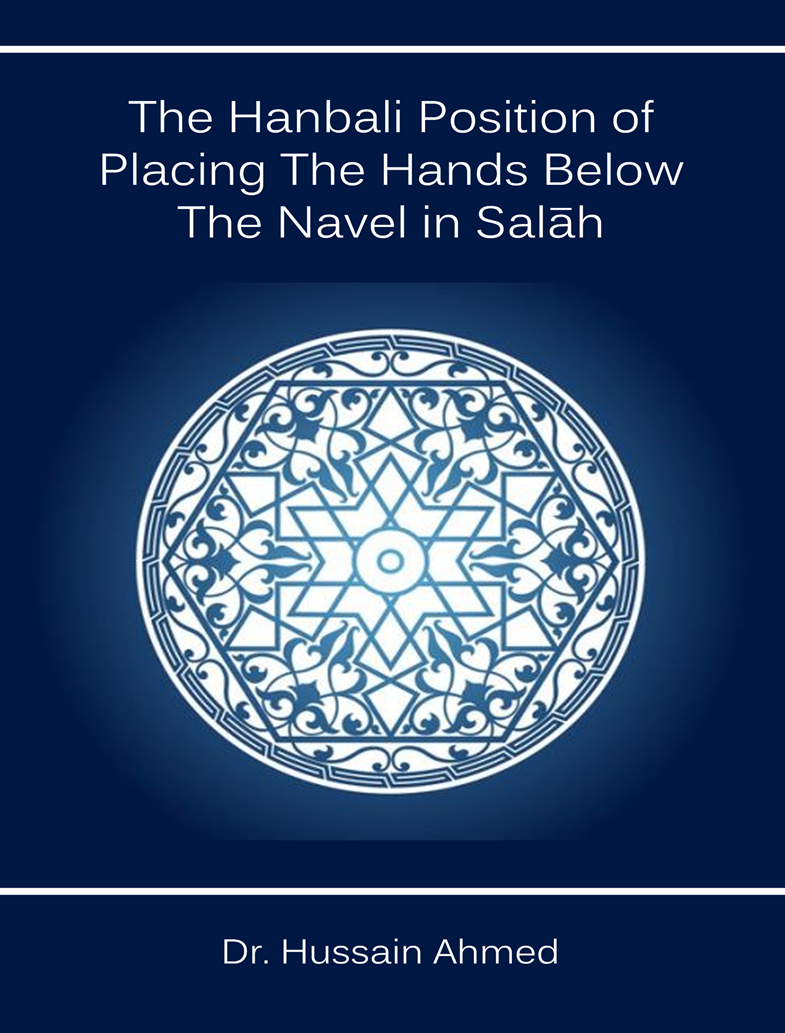 Download the pdf file – HERE
Read online: