Gardens of the Righteous of Imam al-Nawawi (Riyadh al-Salihin)
The work known as "Gardens of the Righteous" is a translation of the famous Hadith collection known as Riyadh al-Salihin by Imam Yahya al-Nawawi (d. 676 AH) of Syria. It contains around 1900 ahadith attributed back to the Messenger of Allah (sallallahu alaihi wa sallam).
Imam al-Nawawi was a prolific scholar who excelled in promulgating the Shafi'i school of Islamic jurisprudence (Madhhab) and his Aqida (creed) was in line with the recognised Sunni school of doctrine known as the Ash'ari school.

The above image in the slideshow bar is from an original handwritten manuscript (dated 745 AH/1344 CE) of the Riyadh al-Salihin of Imam al-Nawawi.

Here follows a short biography on this leading Imam of his age:
Biography of Imam al-Nawawi:
Source: Reliance of the Traveller (p. 1086, edited by Sh. N. Keller)
The following edition that is possibly the first ever English translation (from 1974 CE) of this book has been presented here for download or online reading: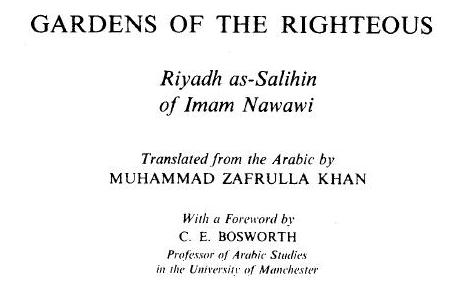 Download here
Read online: